ColorFabb ALLPHA Filament
Several months ago, Fillamentum launched NonOilen, a filament that is produced entirely without petroleum and can be used in the garden without leaving microplastics. In June 2022, ColorFabb launched a similar product that is Polymer based completely different. We would like to introduce you to the brand new ALLPLA from ColorFabb and compare it with NonOlien.
What is PHA?
Some already know ColorFabb's PLA/PHA blend, which has better properties than standard PLA, but what exactly is PHA and what makes it so special?
It is produced by bacterial fermentation. Polyhydroxyalkanoate polymers (PHA) are produced by microorganisms (bacteria) and can also be completely eaten (decomposed) by microorganisms. Overfeeding the bacteria creates "fat cells". PHA is a natural polymer that has not been chemically modified. PHA is fully biodegradable in your garden and therefore minimizes environmental pollution. The well-known PLA, on the other hand, can only be decomposed in an industrial plant at higher heat. PHA materials do not release toxic microplastics into the environment. PHA is not the same as PHA, as different types of bacteria also produce different types of PHA. It is difficult to use a PHA alone to make a filament. ColorFabb has therefore combined different types of PHA to produce the filament. ColorFabb only adds bio-friendly additives to improve material properties, effects and colors.

Even if all cost reduction potentials are exhausted, conventional PHA from microbial fermentation will be three times more expensive than bulk petrochemical polymers.
More information can be found here.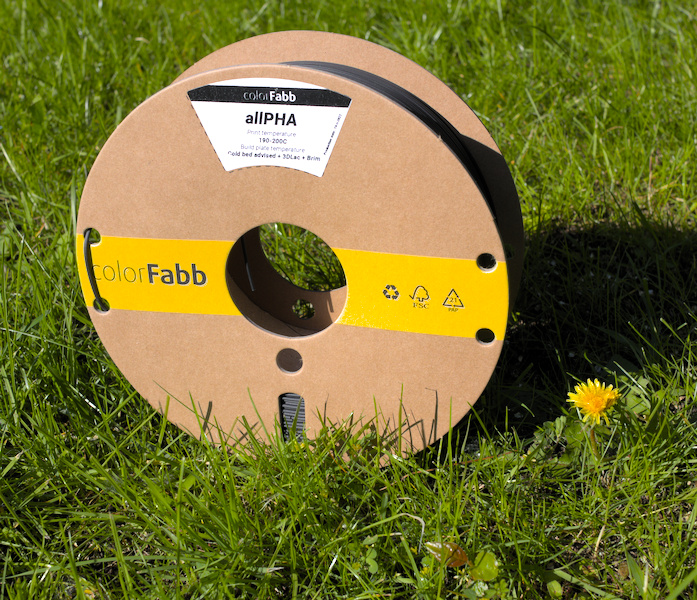 Filament properties:
Is made from various bacteria without petroleum

Is decomposed on the home compost by bacteria without microplastics

PHA is biodegradable in salt and fresh water

PHA is nontoxic and foodsafe


PHA shows exceptional layer to layer adhesion in most printing conditions

The material feels tough and capable and is stable to very high temperatures (>120C)

Unlike other filaments, PHA needs to be printed on a cold bed!

PHA have a low permeation of water. Drying is not required before printing


PHA is completely jerk-free when printing

PHA is not suitable for outdoor use, because it is not UV stable


PHAs are soluble in halogenated solvents such chloroform, dichloromethane or dichloroethane

Density: 1,24g/cm3


Diameter Tolerance: ± 0.1 mm, available in 1.75mm and 2.85mm diameter
Download PDF: ColorFabb ALLPHA Technical Datasheet
Colors:
ColorFabb Allpha is currently only available in three colors and these are:
 According to ColorFabb, the color palette is to be further expanded.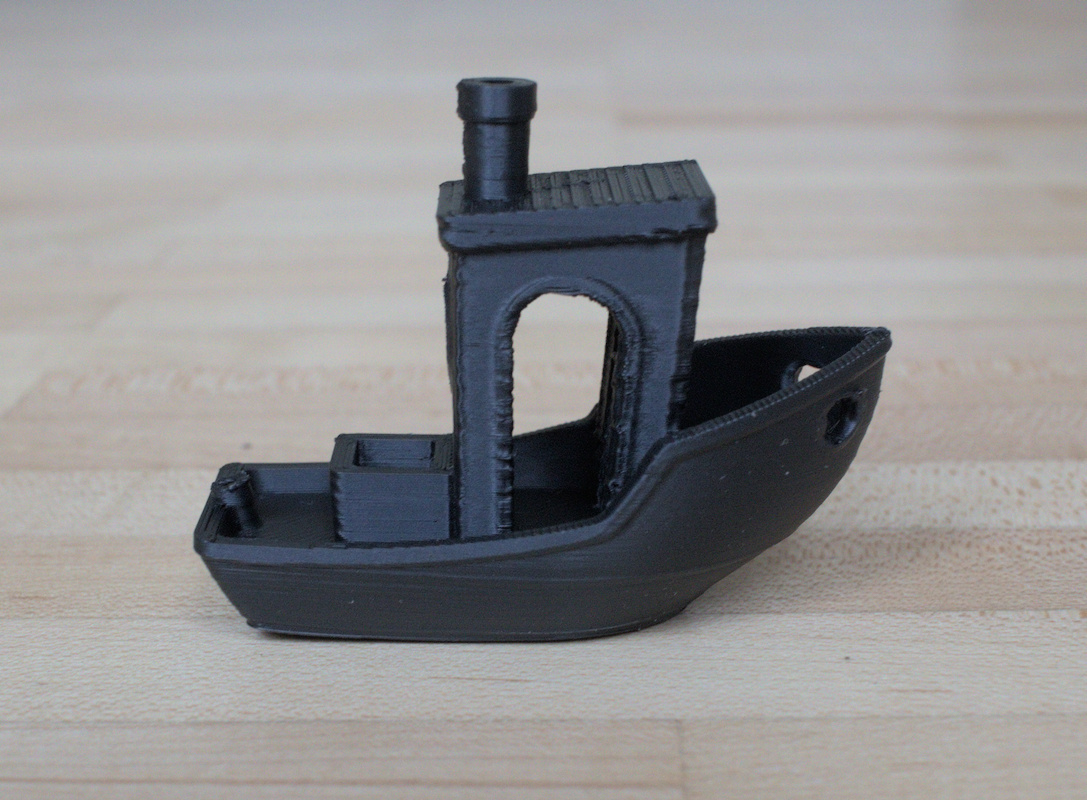 Printing guid:
The parameters depend on the nozzle diameter and the layer height. Here are the parameters for our Ultimaker Cura Visual Normal printing profile with a layer height of 0.2mm:
My Test environment:
Printer: Weedo X40 PRO (with X40-Community Coolingsystem and Firmware X40 PRO)
Nozzle: 0,4mm, Zodiac MK8 PRO
Build platform: BuildTak PEI Film
Slicer: Ultimaker Cura 5.0.0 with Weedo X40 PRO Configuration and Weedo X40 Thumbnail plugin
Weedo X40 Visual Normal printing profile for Cura 5.X
Quality
| | |
| --- | --- |
| Layer height | 0.2 |
| Initial layer height | 0.3 |
| Line width | 0.4 |
| Initial layer line width | 100% |
 Walls
Wall Thickness


1.2


Optimize Wall Printing Order


True


Wall Ordering


Outside
To Inside

Top/Bottom
| | |
| --- | --- |
| Top/Bootom Thickness | 1.2 |
| Monotonic Top/Bottom Order | True |
Infill
| | |
| --- | --- |
| Infill Density | 20% |
| Infill Line Distance | 7.2 |
| Infill Pattern | Cubic |
Material
Printing Temperature


195°C


Build Plate Temperature


0°C


Flow


100%


Horizontal Scaling Factor Shrinkage Compensation
(Only Cura 5.X)

100%

Vertical Scaling Factor Shringage Compensation
(Only Cura 5.X)

100%

Enable Linear Advance
(Needs Linear Advance Settings Plugin)

True
(If Firmware supports)

Linear Advance Factor
(Needs Linear Advance Settings Plugin)
0.25
Speed
| | |
| --- | --- |
| Print Speed | 40mm/s |
| Wall Speed | 20mm/s |
| Top/Bottom Speed | 20mm/s |
| Skirt/Brim Speed | 16mm/s |
| Enable Acceleration Control | False |
| Enable Jerk Control | False |
Travel
Retraction Distance
(Bowden tube)

5,5mm

Retraction Speed

30mm/s

Combing Mode


Not in Skin


Retract Before Outer Wall


True


Z Hop When Retracted


False

Cooling
| | |
| --- | --- |
| Enable Print Cooling | True |
| Initial Fan Spped | 0% |
| Regular Fan Speed at Layer | 3 |
Support (If needed)
| | |
| --- | --- |
| Support Z Distance | 0,2mm |
| Support X/Y Distance | 0,8mm |
Build Plate Adhesion
| | |
| --- | --- |
| Build Plate Adhesion Type | None |
| Brim Width | 8mm |
Experimental
| | |
| --- | --- |
| Enable Bridge Settings | True |
| Bridge Has Multiple Layers | True |
Tip for removing the print objects:
With larger parts, the adhesion to the print bed can become extreme and damage the component or print bed. For large parts, ColorFabb recommends heating the print bed to 90°C and holding it for about 15 minutes. The heat induces crystallization, which makes it easier to detach the printed part from the plate. Brim should not be used on small parts.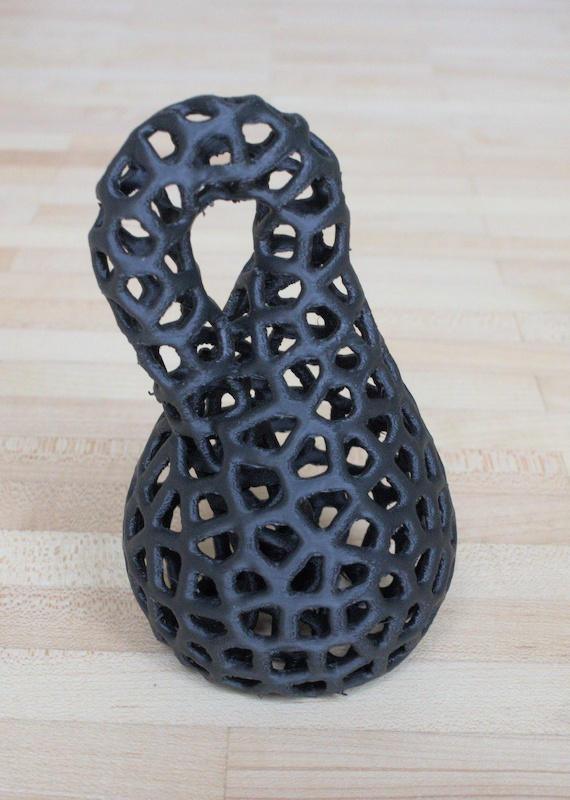 No stringing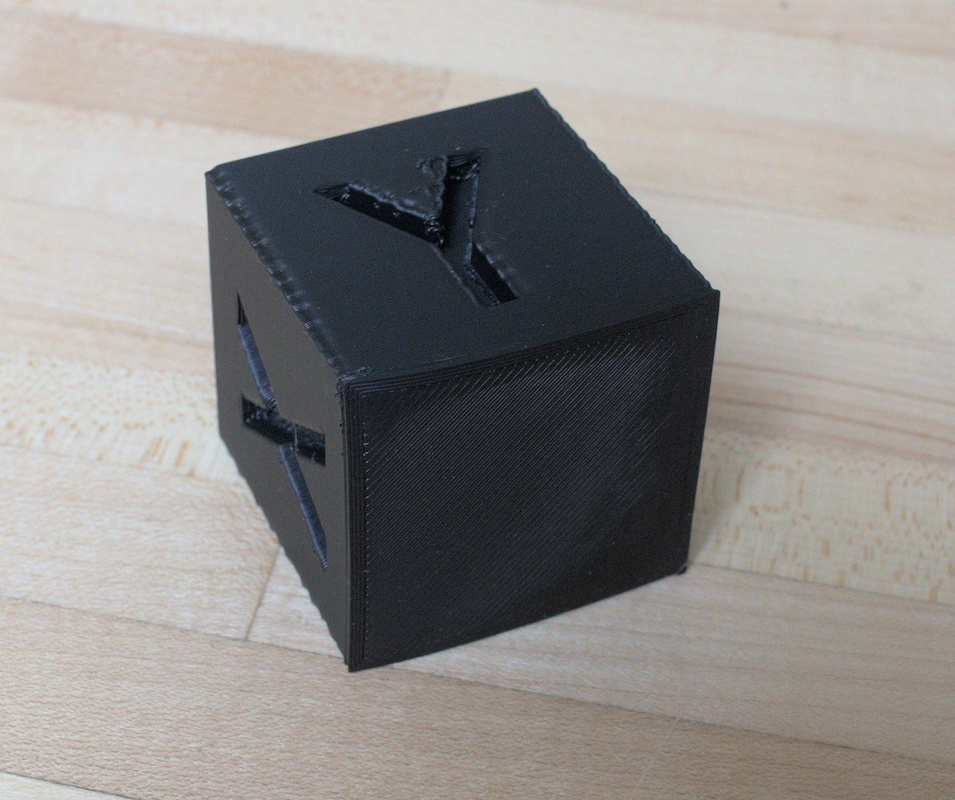 Warping and unsightly edges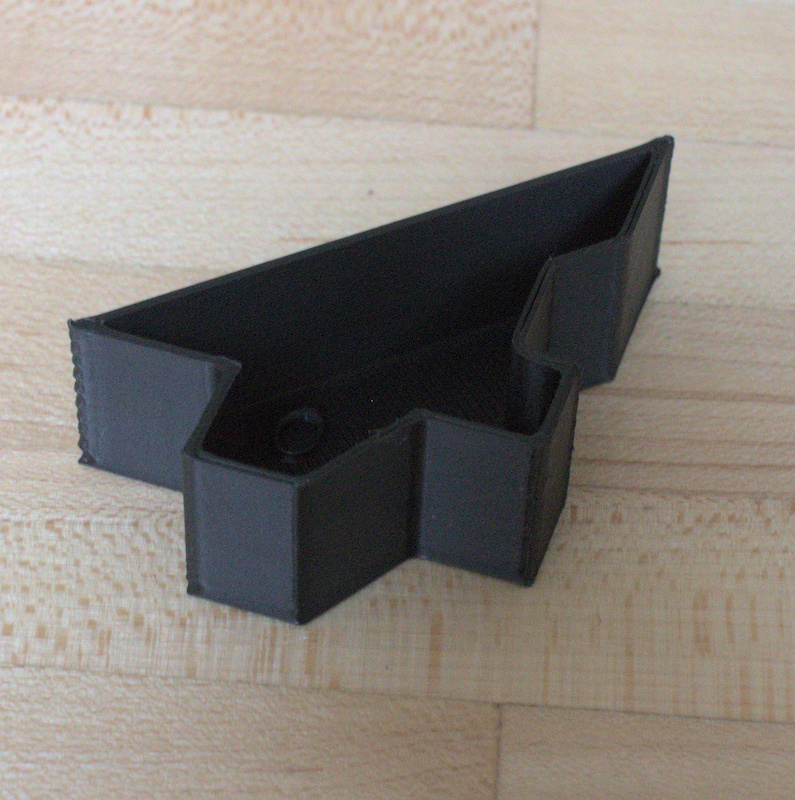 Test print for Linear advance k-factor

Maybe I haven't set the right bridge parameters in Cura yet, I can only print bridges up to 20mm in length. Other filaments can do this much better.
Material for support structures
The Beakeaway support structure works. The values for 0.2mm layer height can be found in the guide. Dissolvable support compatibility has yet to be tested.
Multi-material

compatibility
The compatibility test with different filaments has not yet been carried out.
ColorFabb ALLPHA vs. Fillamentum NonOilen
ALPHA and NonOlien are both filaments that leave no microplastic behind. NonOlien offers print quality that does not differ from other filaments and can also be recycled very well. AllPHA has extremely strong lay adhesion and can withstand high temperatures.
You have to decide for yourself what is better for you.

Specification:
Filament
ColorFabb ALLPHA
Fillamentum NonOilen
Tarfuse ENVI 1

Polymer base

PHA Blend
PLA/PHB Blend
unknown
Density
1,24 g/cm³
1,20 g/cm³
1,30 g/cm³
Diameter toleranze
+/-0,1 mm
+/-0,05 mm
 unknown
Tensile modulus
2519 MPa (ISO 527)
1900 MPa (ISO 527)
2840 MPa

Tensile strength

24 MPa (ISO 527)
31,2 MPa (ISO 527)
33 MPa

Elongation at break

4,5%
7,7%
1,8%

Charpy

impact strength

,

un

notched

25,4

kJ/m² (ISO 179)

25.6 kJ/m² (ISO 179)

unknown

Charpy

impact strength

,

notched

3,4 kJ/m²

  (ISO 179)

2.4 kJ/m²

  (ISO 179)

unknown

H

ardness

62 Shore D (ISO 7619)

71 Shore D

(ISO 868)
unknown

Heat distortion temperature

153°C (ISO 75)
119°C (ISO 75)
unknown 

Safe for food-contact applications 

Yes

Yes

unknown

Recyclability

Unkown

Recyclable, many times without loss of properties

unknown

Decomposition in compost

Yes

3x faster than PLA 

unknown

Ecological damage

No microplastics

No microplastics

No microplastics

Price (2022-06-04)


64,00 EUR/kg

53,34 EUR/kg

34,90 EUR/kg

Benchy print result

 
Source: Manufacturer's website, no guarantee of completeness and correctness
According to the data, ALLPHA is stiffer and more heat-resistant, but not quite as strong as NonOilen.
As usual, you can find my reviews below Tested Filament