Ultimaker Cura for Weedo ME40
I derived a configuration for the new Weedo ME40 3D printer from the X40 Configuration for Cura 5.1. The basic configuration can be downloaded for free.

Since I don't own a Weedo ME40, I'm dependent on feedback from the community. Without feedback, no further development and improvement!
Weedo ME40 links:
If you want to have the preview image displayed, you need the Cura Plugin from the X40-Community.org homepage!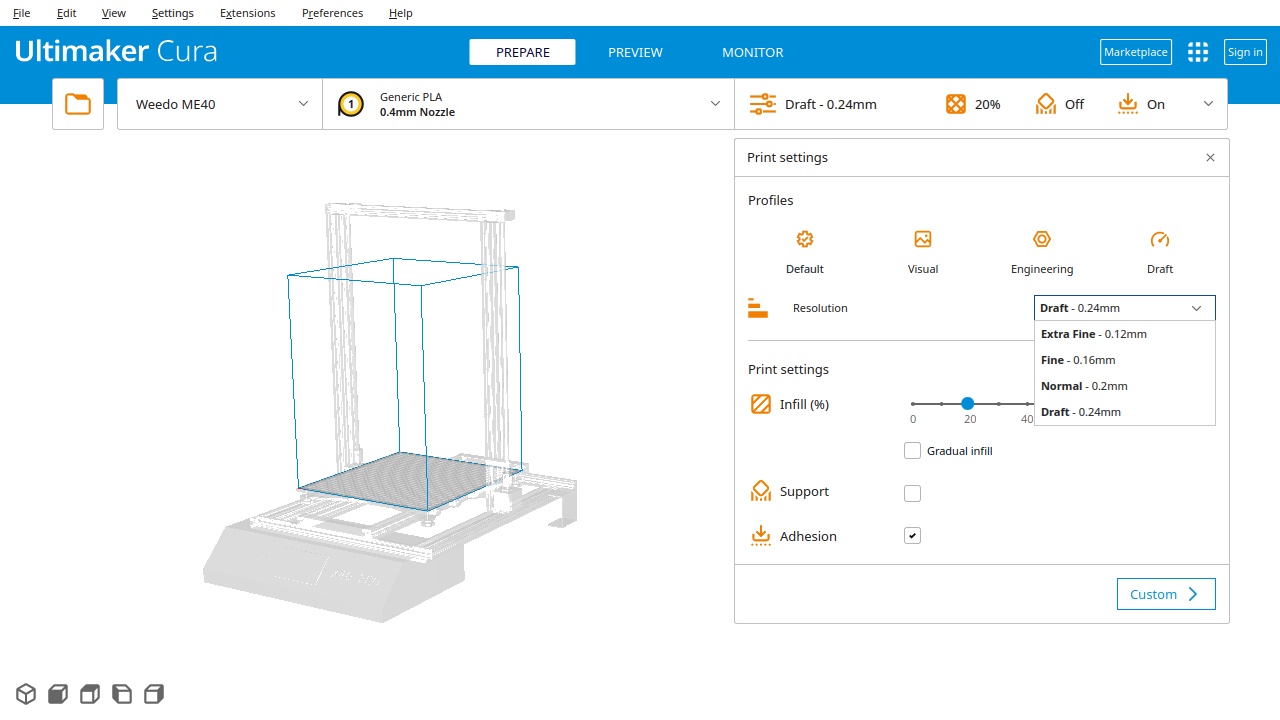 Feature:
Printer profile works with Ultimaker Cura 5.1.0 and 5.0.0 for Windos, Linux and MacOS



Printing profiles for all generic materials with printing levels Default, Visual, Engineering and Draft (11 Printing profiles per material)



Quality class Default (2 Lines):
- Extra Fine 0.12
- Fine 0.16
- Normal 0.2
- Draft 0.24

Quality class Visual (3 Lines):
- Extra Fine 0.12
- Fine 0.16
- Normal 0.2

Quality class Engineering (3 Lines):
- Extra Fine 0.12
- Fine 0.16
- Normal 0.2

Quality class Draft (3 Lines):
- Draft 0.24

For more information see Cura Quality and Intent Profiles



Supported nozzle sizes

: 0.2, 0.4, 0.6 and 0.8


Representation of the printer model


Preview image with X40-Community Cura Plugin possible


Use of the more than 3500 tested printing profiles of the X40 community is possible (not supported at the moment)

Dowload:
Weedo ME40 Configuration for Ultimaker Cura 5.1 (Rev. 1.0)
Installation
Installation is analogous to the Weedo X40 configuration see Configure Cura for Weedo X40