Weedo X40 3D printer
The Nanjing WEEDO 3D Technology Corporation is a small Chinese FDM printer manufacturer, based in Nanjing approx. 300 km from Shanghai. Weedo mainly produces printers for the consumer sector. Weedo develops the printers in their own development center and also holds over 40 patents. 
The Weedo X40 Idex FDM printer was also developed by Weedo.
Idex means Independent Dual Extruder. The Weedo X40 was therefore equipped with two print heads. The IDEX printheads allow printing with two colors and / or different materials. For example, you can use PVA as a support material, which can be completely dissolved in water after printing. So-called 2K printing (two components) is also possible. So you can print a hard and a soft plastic if the materials are compatible with each other. Enabling, for example, the printing of a box with a printed seal. 
The printer equipment also includes an automatic bed leveling and a filament run out sensor for each extruder. With the Weedo Wiibulid software, two small print objects can be printed at the same time using the two print heads. After printing, the printer is automatically switched off.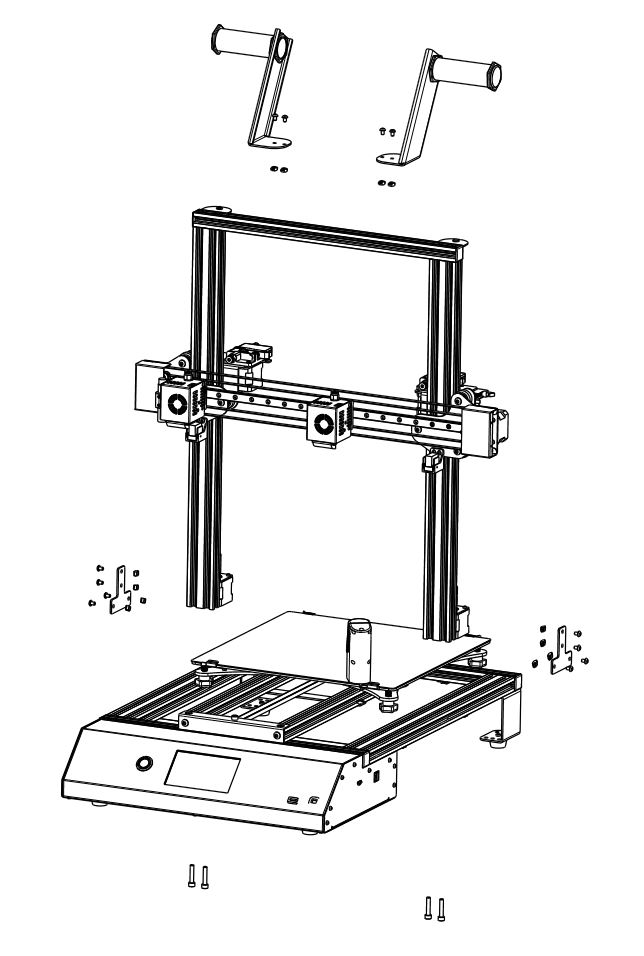 Descripton
 Specifification
 Hardware versions
 

There are two versions of the printer:




X40 V1: The first mass production version (Kickstarter Version). The production time is from November 2020 to June 2021.
X40 V2: The second production version. The production batch start from July 2021. The length in the Y-axis direction has been shortened. The Y-axis coordinate has been changed from (-2,310) to (-11,303).

 In the case of a firmware update, the appropriate firmware must be installed for the hardware.

 Feature

Dual Idex extruder
Platform removable
4,3" Touch screen with preview image
Automatic bed leveling
Runout Sensor
Auto Power Off
Wifi
Webcam

 Nozzle configuration
 Independent Dual Extruder
 Nozzle type
 MK8
 Nozzle Diameter
 0.4mm, 0,6mm, 0,8mm, with an Extruder upgrade 0,2mm
 Filamentdiameter
 1.75mm

 Usable Filaments

 PLA, PETG, TPU with 95 Shore A, ASA, PCTG, PP, HIPS, NonOilen, PMMA, PVB, DuraBio, GreenTec, GreenTec Pro, BVOH, PVA and much more.

 Material list see Cura Quality and Intent Profiles

 Maximum printing area with  one nozzle
 300mm x 300mm x 400mm (11.8"x11.8"x15.8")
 Maximum printing area with duplication mode
 145mm x 300mm x 400mm (5.7"x11.8"x15.8")
 Maximum printing area with mirror mode
 120mm x 300mm x 400mm (4.9"x11.8"x15.8")
 Printing Speed
 20-150mm/s
 Positioning Accuracy
 XY-Axis: 0.011mm, Z-Axis: 0.0025mm
 Printing temperature
 max. 260°C, with the X40 PRO High Temperature upgrade up to 280°C
 Heatbed temperature
 max. 90°C
 Input Power
 24 VDC, 20A (480W)
 AC Adapter Input Power
 100~240 VAC, 50/60Hz
Touch screen

Size: 4,3" (95mm x 53.9mm)
Resolution: 480 x 272 pixel
Color: 65K (65536) colors
Modell Nr. : DMT48270C043_06WT Interface : FCC 10Pin _ 1,0mm

 Webcam

 2 million-pixel camera that provides VGA video streams based on MJPG encoding.
 The camera resolution:

Video streaming 640*480 pixel
Still picture 1024*768 pixel

The camera can only be used by one device at a time and the streaming and snapshot functions cannot be used at the same time. For example, you cannot record a time-lapse with Octoprint and at the same time watch the video stream on your smartphone!

 Wifi
WIFICAM uses a high-performance dual-core processor, runs at the main frequency of up to 600DMIPS, and integrates 4GB Flash, 802.11b/g/n wireless network module.

Only the 2.4GHz frequency band is supported

.
 MicroSD

A MicroSD card reader is installed on the mainboard. The firmware supports the file systems FAT, FAT32 and VFAT.

FAT32 and VFAT:

Long filenames
max. 4GiB file size
max. 2TiB flash memory
Default by MicroSD Cards up to 32GB

The exFAT file system used with larger MicroSD cards (microSDXC-Standard) is not supported. You then need to format the flash memory to FAT32 with VFAT.

 Mainboard / Controller

R73 is the 7th generation 3D printer controller developed by WEEDO3D. It uses a 32bit large capacity mcu, stm32F103vet6, with 512k flash and 64k ram. R73 has 4 endstops, 2 runout sensors, 1 proximity switch, 3 thermistor inputs, and 6 stepper motors, 2 nozzle heating, 1 heated bed, 5 fan output. And support DGUS touch screen, WIFICAM and power management module. Due to the integrated interface, the R73 port is very simple and clear.

Microcontroller: STM32F103VET6, Cortex-M3 Core, 512k flash, 64k ram

USB Chip: CH340G

Stepper Motor Driver: X1, X2, Y use TMC2208, Z, E1, E2 use A4988

Stepper Motor Current Regulation: 4-channel PWM

Endstop: X1, X2, Y-Max, Z-Max

Runout Sensor: RUNOUT1, RUNOUT2

Fan: Extruder Fan x4, Case Fan x1

Z Probe: Proximity Switch x1

Heated bed: 100k thermistor, 24V, Max to 300W

LCD: DGUS Touch Screen

WIFI: WIFICAM

Storage: TF Card

Power Input: 24V/20A

Firmware

 OpenSource Marlin 2.0.5 with closed source GUI.

 Silcer
 Weedo Wiibuilder, Weedo Cura, Ultimaker Cura (

Over 3000 print profiles are included with the X40 community upgrade)

 
 Machine dimensions
 54cm x 62cm x 66cm (21.3"x24.4"x26")
 Machine weight
 13,2kg

 Expandability